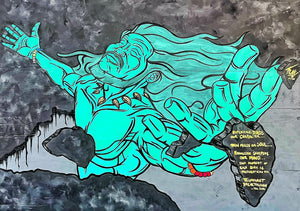 Each Print of each collection will be Open Edition and available on 11x17" 80lb. cardstock.
Each Print will come •Securely Packaged• in its own Tube-Mailer

This piece was live-painted during a community festival in 2021, titled: A Healing Revival. The combination of the words "Healing" and "Revival" come together to imply such a moment of gratification, enlightenment, peace, and euphoria that can only be best described by those who have experienced what it truly is to Heal and Revive from adversity, oppression, pain, and various obstacles and traumas that we have all encounter and rise above to this day.
As we all continue to learn and grow we will be presented with challenges and opportunities, both of which moves everyone to express their inner-self in a multitude of fashions.
At the apex of this expression, is the Triumphant Breakthrough, the deep-breath, closed eyes, outstretched arms of relief and weightlessness…that leads us to The Healing Revival.
Featured Quote By Trae IsAAc:
"The experiences we encounter build our character.
The pains we push past mold our soul.
The knowledge we gain sharpens our mind.
Each moment of each day is preparation for Triumphant Breakthrough"
PRESENTATION & PACKAGING

EVERY DETAIL COUNTS TOWARDS A MEMORABLE EXPERIENCE
PRESENTATION & PACKAGING

EVERY DETAIL COUNTS TOWARDS A MEMORABLE EXPERIENCE
PRESENTATION & PACKAGING

EVERY DETAIL COUNTS TOWARDS A MEMORABLE EXPERIENCE
PRESENTATION & PACKAGING
EVERY DETAIL COUNTS TOWARDS A MEMORABLE EXPERIENCE
PRESENTATION & PACKAGING
EVERY DETAIL COUNTS TOWARDS A MEMORABLE EXPERIENCE
PRESENTATION & PACKAGING
EVERY DETAIL COUNTS TOWARDS A MEMORABLE EXPERIENCE