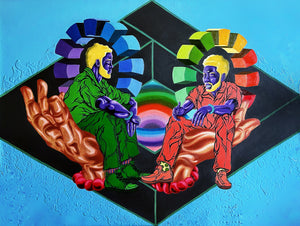 Each Print of each collection will be Open Edition and available on 11x17" 80lb. cardstock.
Each Print will come •Securely Packaged• in its own Tube-Mailer
FOR THE

ORIGINAL PAINTING

, CLICK

HERE

For far too long vulnerability in the form of verbal expression has been frowned upon and demonized to the point most of our Men have been subject to social ridicule and shame from their family, friends, and peers. When it comes to processing emotions, there are different expectations for men and women. Due to general society viewing women as "emotional," it's socially acceptable for them to express their feelings, like sadness or fear. But men, who are seen as strong and fearless, are not encouraged to outwardly express their emotions. 
Six million American men suffer from depression every year. Many men attempt to treat mental illness themselves, and in the process, 1 in 5 men eventually develop alcohol or drug abuse. Some try to cut out difficult emotions by attaching their self-worth to the successes in their work and social lives. Just because men are told to hide their emotions, doesn't mean they don't have them. Research shows that men experience emotions at the same level that women do. But because it's not socially acceptable for a man to cry when he's sad, it can make it seem like men don't experience sadness at all. 
It is crucial to understand that expressing emotions and seeking help is a sign of great strength and immense courage. It is essential that Men acknowledge and validate their emotions in healthy and safe manners that allow them to be heard and healed. We must value and champion the importance of emotional expression and provide understanding and empathy where needed.
I value and cherish the bonds and connections I have with my fellow men & brothers that allow for a healthy, safe, and constructive exchange of time, energy, ideas, experiences, and emotions. I'm thankful for the times and situations where I've been able to express myself unapologetic and unhindered while also being listened to and understood, as I am also immensely thankful for the occasions where I can represent that same source of understanding for my fellow Men & Brothers.
🎨🖼️
Details of The Artwork
🖼️🎨
The circles of cubes represent the energizing/charging process that occurs during fluid exchanges, showing a cycle of energy being shared between the participants of the conversation
The Men are seated on Golden Hands as a representation of The Universe empowering and elevating the subjects to a level they can genuinely honor and engage in. There are red beads circling the wrists of the Golden Hands as representation of the root chakra as a means to show a humbling and grounded nature of the exchange of energy between the two, which allows for a zone of fluid and seamless communication that can be deposited into and withdrawn from the shared space.
The choice of purple was used to exhibit the meaning of the third-eye and crown chakra and how the two Men embody the concept of sharing the depth of their intellect, consciousness, and emotions as a means to produce solutions and expound upon principles. This concept is further shared by the Men having only their third-eye open and other eyes closed as a means to exhibit the concept that in the most seamless and gratifying conversations place us in an empowering and relaxing state that allows us to open up further and more comfortably than we would in otherwise toxic situations.
The Men share Golden Hair as a representation of a Crown for their exchange being glorified, honored, and championed. As a means to destroy the stereotype that Men who talk about their inner self are less-than. The aqua-toned bracelets being worn by the Men are representations of the throat chakra that endorses communication, expression, and inspiration.
The color green is used as an icon for the heart chakra, which embodies the ability to genuinely exchange compassion and empathy. Sitting opposite the color orange is used to showcase the meaning of the sacral chakra which defines the ability to express your true self with clear intention an unapologetic open-mind.
PRESENTATION & PACKAGING

EVERY DETAIL COUNTS TOWARDS A MEMORABLE EXPERIENCE
PRESENTATION & PACKAGING

EVERY DETAIL COUNTS TOWARDS A MEMORABLE EXPERIENCE
PRESENTATION & PACKAGING

EVERY DETAIL COUNTS TOWARDS A MEMORABLE EXPERIENCE
PRESENTATION & PACKAGING
EVERY DETAIL COUNTS TOWARDS A MEMORABLE EXPERIENCE
PRESENTATION & PACKAGING
EVERY DETAIL COUNTS TOWARDS A MEMORABLE EXPERIENCE
PRESENTATION & PACKAGING
EVERY DETAIL COUNTS TOWARDS A MEMORABLE EXPERIENCE