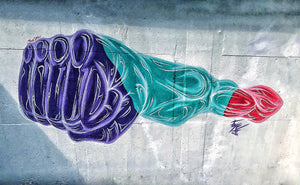 Each Print of each collection will be available on 11x17" 80lb. cardstock.
Each Print will come •Securely Packaged• in its own Tube-Mailer
Each shipment of Prints comes hand signed & numbered.

This print features a mural I painted back in 2019 back near my hometown of Detroit, MI. The artwork represents the Joe Louis Memorial Statue that resides in Downtown of The Motor City and represents the towns relentless strength and undying resilience, traits that I am able to relate with through me having to overcome various adversities such as losing my younger brother and mother to cancer, and the obstacles I've managed throughout my life and creative career.
Completed in my signature Strong-Style Aesthetic, with branded colors representing Royalty (purple), Fluidity (aqua), and Passion (red). This iconic piece is a reminder for us to remain strong and focused in our individual and collective journeys to Greatness & Peace of Mind.
PRESENTATION & PACKAGING

EVERY DETAIL COUNTS TOWARDS A MEMORABLE EXPERIENCE
PRESENTATION & PACKAGING

EVERY DETAIL COUNTS TOWARDS A MEMORABLE EXPERIENCE
PRESENTATION & PACKAGING

EVERY DETAIL COUNTS TOWARDS A MEMORABLE EXPERIENCE
PRESENTATION & PACKAGING
EVERY DETAIL COUNTS TOWARDS A MEMORABLE EXPERIENCE
PRESENTATION & PACKAGING
EVERY DETAIL COUNTS TOWARDS A MEMORABLE EXPERIENCE
PRESENTATION & PACKAGING
EVERY DETAIL COUNTS TOWARDS A MEMORABLE EXPERIENCE