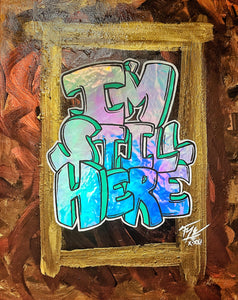 For ORIGINAL PAINTINGS of this Collection, click HERE

Each Print of each collection will be available on 11x17" 80lb. cardstock.
Each Print will come •Securely Packaged• in its own Tube-Mailer
Each shipment of Prints comes hand signed & numbered.

The "I'M STILL HERE" Collection is based on those around the world who battle with building and/or maintaining self-worth, those who have an intimate understanding of perseverance, and those who wield the passion and courage to wake up each day and continue to live in their purpose. This body of work reflects the voices of the Unpopular, Overlooked, Dissimilar, and Brave.
With the purpose of creating a feeling of "Self-Belief" and boosting the viewers self esteem by allowing them to reminisce on the occasions I'm which they've had to overcome adversity and tribulation. We have all been through situations in which there seemed to be no hope or help, until we reach deep within our soul & psyche to birth the willpower needed to achieve and persevere.
This collection of mixed-media Artwork features hand-painted holographic vinyl to achieve an aesthetic of "Divinity" as you view the miraculous color shifts while light makes contact with the canvas at various angles. Acrylic/Oil/Aerosol paints on canvas & vinyl were used for this piece.
PRESENTATION & PACKAGING

EVERY DETAIL COUNTS TOWARDS A MEMORABLE EXPERIENCE
PRESENTATION & PACKAGING

EVERY DETAIL COUNTS TOWARDS A MEMORABLE EXPERIENCE
PRESENTATION & PACKAGING

EVERY DETAIL COUNTS TOWARDS A MEMORABLE EXPERIENCE
PRESENTATION & PACKAGING
EVERY DETAIL COUNTS TOWARDS A MEMORABLE EXPERIENCE
PRESENTATION & PACKAGING
EVERY DETAIL COUNTS TOWARDS A MEMORABLE EXPERIENCE
PRESENTATION & PACKAGING
EVERY DETAIL COUNTS TOWARDS A MEMORABLE EXPERIENCE