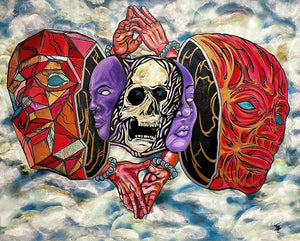 Prints of this Artwork is Limited to 50 and available on 11x17" 80lb. cardstock.
Each Print will come •Securely Packaged• in its own Tube-Mailer

This piece is titled "Paradigm of Polarity". A representation of Duality & Balance, this piece is a collaboration between Trae IsAAc (red faces & hands) & Sasha Corder (purple faces, skull, background).
The artwork expresses the internal journey of finding your divine balance by growing to embrace the beauty of your own uniqueness. It also expresses the external journey of managing and manifesting balance within our daily lives as we face obstacles that pull us in varying directions and opportunities that provide us with room for growth.
PRESENTATION & PACKAGING

EVERY DETAIL COUNTS TOWARDS A MEMORABLE EXPERIENCE
PRESENTATION & PACKAGING

EVERY DETAIL COUNTS TOWARDS A MEMORABLE EXPERIENCE
PRESENTATION & PACKAGING

EVERY DETAIL COUNTS TOWARDS A MEMORABLE EXPERIENCE
PRESENTATION & PACKAGING
EVERY DETAIL COUNTS TOWARDS A MEMORABLE EXPERIENCE
PRESENTATION & PACKAGING
EVERY DETAIL COUNTS TOWARDS A MEMORABLE EXPERIENCE
PRESENTATION & PACKAGING
EVERY DETAIL COUNTS TOWARDS A MEMORABLE EXPERIENCE